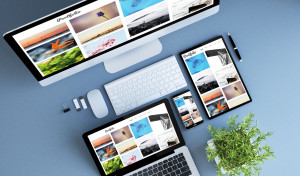 If you're having trouble convincing prospects that your product or service is the perfect answer to their problems, a landing page can be just the thing you need. For those of you who are new to the term, a landing page is a website page that allows you to capture a visitor's information through a lead generation form. It is a popular method for selling online used by just about everyone, including top business leaders, entrepreneurs, large corporations and small businesses.
Many studies prove landing pages are highly effective. In fact, successful landing pages generate more than 47 percent more sales than sending visitors to a website's home page. In addition, 45 percent of people are more likely to purchase a product after visiting a landing page.
Wouldn't you want 47 percent more sales for your business and increase the likelihood of more people visiting your site? If so, it's time to start creating a landing page. Here's a quick, five-step checklist to create one that will provide leads and eventually conversions for your organization:
1. Create a compelling offer
The very first step in creating a high-converting landing page is to think about what you'll offer to your customers. Is it a new product, a discount or a giveaway? Before deciding on what you'll offer, make sure you research your target audience and know exactly what their interests are. It also doesn't hurt to see what the competition is selling and see if your audience is attracted to their products. With this research completed, you'll be able to create a compelling offer that will prompt your customers to visit your landing page.
2. Draw people in with catchy headlines
Headlines are what pull people in. They are often the first thing your customers will see so they need to be incredibly engaging. The best way to do this is by making them detailed, short and highly specific. They also should be dramatic, surprising and, most importantly, benefit-driven.
3. Go into greater detail with subheadlines
While headlines should be used to hook visitors in, subheadlines can help provide more detail to guide your audience through the landing page. Show the specifics of your offer and answer the questions that your audience is likely to have. You'll want to make your customers feel confident with the offer you are proposing.
4. Make your page appealing with high-quality visuals
Instead of just describing in words the benefits your audience will get, you will also need to show them exactly what they will receive. Use plenty of high-quality photos and, where applicable, videos to show customers the product or service you're offering. Visually showcase the benefits and incorporate compelling features that will convince your potential customers to go to the next step.
5. Incorporate calls-to-action throughout the page
Every landing page should have a call-to-action. This can be a simple form that asks for your customer's name, email address and any other pertinent information. It can also be a button that takes them to another page on your website. Whatever your call-to-action is, make sure it stands out and is easy to see and is in a prominent location on your landing page or in several spots throughout. Be sure to also place an adequate amount of white space around the call-to-action so viewers will see it right away.
Going through this checklist will help you to create a landing page that will bring in more leads and conversions for your website. While all of these steps are important, implementing them is often a different story, especially if you're business owner with lots of important things to worry about. Hiring a web developer with a successful track record of creating effective landing pages can be a tremendous help.